Italian food and cooking courses
Fish menu:
Antipasto (starters): Insalata di mare (cold rice with seafood) and baccalà mantecato (minced)
Primo piatto (first course): Spaghetti con le vongole (clams)
Secondo piatto (second course): Scampi or filetti di pesce (fish fillet) ai sapori del mediterraneo
Contorno (vegetables): Insalata (salad)
Dessert: Lemon sorbetto (sherbert) or strawberry made with fragolino wine

Insalata (salad)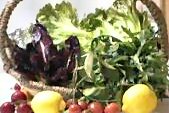 Baccalà mantecato (Codfish)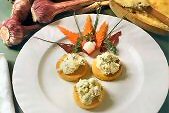 Spaghetti alle vongole (clams)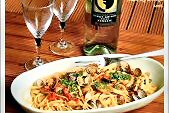 Scampi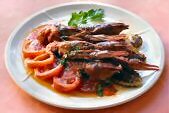 Sorbetto (sherbert)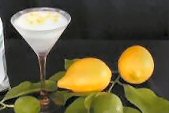 Vicenza is known for its baccalà, a poor man's food which today is highly valued. Baccalà is a richly flavored dish which requires a good deal of preparation and is served with polenta. We propose a simpler style of cooking it but which is equally rich and flavorful.

We begin our fish dinner with a seafood salad made with squid, calamari, octopus and shrimp boiled and dressed with citronette (lime) and flavoured with garlic and parsley.
Alternatively, a typical Venetian and Veneto dish - baccalà mantecato, a stockfish which has had all bones removed and is beaten repeatedly to a pulp, boiled and prepared with oil and milk until it becomes a cream to be served with grilled polenta.

Spaghetti and clams (in Venice they especially value "caparozzoli" clams) is a classic seafood dish where the aroma of garlic and parsley blends perfectly with tasty tomatoes and clams.

Scampi alla busara is a light and tasty treat which is much appreciated in the northern Adriatic region of Italy.
This wonderful dish is easily prepared with simple ingredients like garlic, onions and tomatoes but it is the rich taste of scampi which makes it so tasty.

For those who prefer fish to crustaceans we propose a simple way of cooking fish using local products: in the oven, wrapped in aluminum foil, dressed with olives, capers, cherry tomatoes and aromatic herbs and spices. These genuine flavours really bring out the best in fish.
Vegetables mix well with seafood flavors, so we suggest a good mixed salad fresh from the garden (novella, soncino, radicchietto) dressed with extra virgin olive oil to accompany the above proposals.

We top off our fish dinner with fresh fruit taste like lemon sherbert from lemons growing along the banks of Lake Garda or the sweet taste of strawberry and fragolino wine from fermented juice rather than wine to give it a real kick.