Guest services and information about our B&B in Vicenza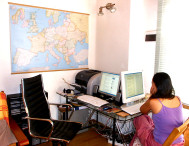 Travel in Italy can be a very rewarding experience if you find the right hotels or lodging to stay at, especially if the services they offer are tailored to your particular needs. In addition to a clean and quiet room in a centrally located part of town, having good travel information readily available is one of the basic ingredients to enjoying your holiday in Italy. Most of all, it's the people you meet and experiences you have during your travels which can really make for a great vacation in Italy.
We like our guests to feel at home right from the moment they arrive, so we always have a bit of "welcome wine" on hand to start things off. Bob needs to work on his muscle tone too (in addition to the well developed belly), so he's always happy to help you with your bags, pick you up from the station when you arrive and give you a lift back on departure. Most importantly, we want you to feel comfortable and enjoy your holiday in Italy, so feel free to have a cup of coffee and chat with us. We've been here a long time and know all the best places to eat, sample wine and shop around town. You'd be surprised at how many things are missing from those guide books you brought with you!
Services and travel information
Rooms - Our bedrooms are all clean and quiet, facing the garden and Berici hills behind our house to the south.
Each room has a king sized bed and private bathroom, with screened windows and air-conditioning.

Kitchen - A fully functional kitchen is available for guests who wish to cook, or learn to cook Italian food.

Courses - We organize Italian cooking courses for guests who are interested in learning the finer points of Italian cuisine. Bob is always looking for an excuse to eat, so if you'd just like to learn a simple dish or two he'll be happy to share the benefits of what he's learned in his 30 years of living in Italy.

Breakfast - We provide things like milk and cereal, muesli, yogurt, fresh fruit and fruit juice, toast and butter, marmalade, coffee (regular or decaf), tea and fresh tomatoes from the garden in summer. Guests are welcome to help themselves to breakfast whenever they get up.

Bicycles - Bikes are available for guests who enjoy biking. The bike path behind the B&B is 40 kilometers long and goes past the wine making village of Costozza and Lumignano which is famous for its rock climbing.

Internet - An ADSL wireless connection is available for guests who wish to check email or surf the internet. Bring your laptop and tap into our high speed line (ethernet or WiFi Network) from the comfort of your own room.
Didn't bring your notebook along this trip? Use our guest computer to surf the net & download your photos to cd.

Telephone - Low cost international phone calls can be made (VoIP) here at the B&B if you want to "check in" with the rest of the family back home. We also have phone cards on hand for Europe, America and Asia as well.

Laundry - Guests are welcome to use our washing machines if you need to do the laundry (we know what it's like when you've been traveling around for a while). Please check with us first though so we can show you how.

Transportation - For groups of 4 people or less Bob will gladly pick you up from the train station and accompany you again upon departure. Rental cars are available too at the train station, there's both a Hertz and a Maggiore. Weekly prices for small rental cars here in Vicenza are between 200 - 230 euros.

Taxi service - Radio taxi provides 24 hours taxi service around town. If you need to make an early morning flight out of Venice Marco Polo airport before the 1st train leaves we can accompany you directly to the airport. - Check timetable and schedules for the shuttle bus between Marco Polo airport and Mestre train station here.

Maps - We have plenty of maps available both for downtown Vicenza and neighboring communities. Have a look at the "villas" section of our web site to get an idea of various itineraries around Vicenza.

Travel Information - Browse thru our travel guides and brochures to get an idea of things to see and do in the area. We are more than happy to help you plan your travel itineraries and give you suggestions on fun things to do for the whole family. The "Near Vicenza" section of our site is full of things to do that make great day trips.

Tours - Vicenza is full of interesting things to see which are best visited on foot, check the "Tours" section for details. Bob enjoys taking guests on little walking tours behind the Rotonda. There's a wonderful trail thru the woods to Parco Guiccioli which passes the church at Monte Berico on its way down back to the B&B which takes just over an hour. It's a bit of a hike but it's a lot of fun and great exercise.

Books - There's plenty of reading material around for our guests, from comics (like Gary Larsen's "Far side") to novels. We've also got quite an assortment of guide books as well, both for Italy and abroad.

Travel Tips - The B&B is a great place to exchange travel tips with other guests, in fact they are usually the best source of information available. We've traveled extensively thru Italy and are glad to share our experiences with you and give you suggestions on places to visit during your holidays.

Parking - If you're coming by car we've got parking just behind the guest house, click here for detailed directions to our Bed and Breakfast.

Location - Our little family hotel here in Vicenza Italy is just a 10 minute walk from the main square in town - Piazza dei Signori, La Basilica, the train station, Teatro Olimpico, Villa Valmarana and La Rotonda. Vicenza itself is strategically located right in the heart of Veneto, halfway between Venice and Verona on the main train line. Trains run freqently in both directions and you can easily reach any number of interesting towns and villages which make for good day trips in under an hour.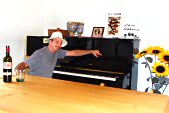 We try to provide our guests with everything we would like to have while traveling around. You'll find soap and shower cream in the bathrooms, pots and pans in the kitchen and helpful, friendly hosts you can talk to. We often invite our guests to have dinner with us or simply share a glass of wine in the afternoon. Bob enjoys cooking up a risotto with fresh zucchini from the garden, while Jenny will often prepare Green Curry Soup or other Thai dishes. And after a great dinner of course, and with the right bottle of wine, we might just end up with a little 'sing song' as well.