Bob's take on northern Italian lifestyle and living in Vicenza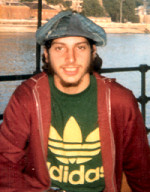 "Vicenza? Where's Vicenza?" That's what I asked the man on the train as I was heading back to London with my eurail pass about to expire. I was on my way up from Pistoia, a little town just north of Florence where I had spent the weekend and fallen in love. After traveling around Europe all summer I finally made my way down to Italy, not knowing what to expect. But one thing was certain, the Italians I had met during the course of my travels had touched me in a way nobody else had, except for perhaps the Spanish.
Coming from America and fresh out of college I was a babe in the woods, in search of something that could give meaning to my life. I needed a fresh start, and Vicenza was as good a place as any. "Vicenza's got a NATO base, you could find a job and stay" he told me. I had been playing the guitar I brought along with me from back in New Jersey, writing a song about the girl I had fallen in love with. Everyone came over to where I was softly singing and just stared at me in wonder. As strange as I may have seemed to them, with my long hair and guitar, equally strange were they to me. In America people would have turned away, pretending not to notice. But Italy in 1980 was far different from where I had grown up, and people were genuinely curious and wanted to share my story.
Immediately they began asking me questions about myself, trying to size me up and understand what drove me to the point of tears rolling down on my face while I sang. "I'd love to stay here in Italy" I told them, "but I don't have any money left, my eurail pass is going to expire the day after tomorrow and I've got to go back to London to catch my flight home." I was resigned to the fact that I would have to go back to the U.S. and start a 'normal' life. "Listen" said the man, "I'll put you up in a hotel tonight, and tomorrow you can go into the army base here in Vicenza - Caserma Ederle, and look for a job. If you don't find anything you still have time to get back to London for your flight. If you really want to stay here and start all over you can do it!" Wow! I had lived in New Jersey for 22 years and nobody had ever offered to help me out like that. My first thoughts were why someone would be so kind and want to help me out, I was a total stranger. What I really wanted to know was what made people so generous and trusting, and how could I ever become so? This was an opportunity that was staring me right in the face, and I knew if I turned it down I would regret it forever.
I took him up on it, not knowing how to thank him, and vowed to one day find out what makes people want to give the way this man had. Italy in 1980 was still a relatively poor country, and hadn't been overwhelmed with all the immigrants it now has. It seems like everyone wants to come to Italy, and I know why. In spite of all the changes I've seen over the last 30 years, Italy is still a genuinely simple, happy place to live. Italians are spontaneous, fun loving people with a deep sense of family. It's part of their culture to want to help people and take care of them, just as if they were family. This was something I needed, and Italy was the right place to start afresh.

One of the first experiences I had was picking grapes that September, or perhaps I should say eating grapes! Not having found work inside the army base I promised myself I would make it somehow, not wanting to let down the man who had so graciously helped me out earlier. After running thru the many addresses I had collected while traveling, I came across one that was from someone who I had met back in London at a place referred to as "tent city" in East Acton. Francesco was from Vicenza, so I contacted him to say hello, hoping of course he might be able to help me out too.
Interestingly enough, I was hesitant to contact people and ask them for help, thinking they would feel uncomfortable. But what I later realized was that Italians actually want to help, and while they do have their limits, they genuinely give as much as they can. I can't recall all the people who invited me over for lunch or offered me a warmer shirt as the weather changed, but these people took me in and wanted to make sure I was ok. Francesco told me he had a place where I could sleep, a sort of outdoor work yard with a roof overhead and running water. It was far different from staying in a hotel, but my sleeping bag would be warm enough for the next month and a half, and I could look for something in the meantime. I took him up on his offer, grateful again that such generosity had befallen me.
The next few weeks were a turning point for me, as I made many friendships and got to know Vicenza better. Francesco also dug up an old bike he had and lent it to me. Vicenza was easy enough to get around on foot, but the bike made things even easier. I was all set. I had a place to stay, wheels, and money coming in for a few weeks. The day I began picking grapes I made friends with 2 young men from Vicenza who were more than happy to practice their English with me. They told me they'd come by and pick me up the next day so I wouldn't need to take the bus. Again I wondered what it was that drove people to want to give so much. What happened the next morning was something that best reflects what people were like in Vicenza back in 1980.
I had woken up early, about 6:00 am. After washing my face from the hose and playing with the dogs in the work yard (they had become family too), I walked to the condominium where we had scheduled our rendezvous, waiting for my new friends to come and pick me up. It was a chilly morning, and as I blew into my cupped hands to warm them up a window opened on the 2nd floor above me. "Ma cosa fai laggiù?" said a voice from the window. Not understanding much Italian I tried to explain that I was waiting for my friends, and apologized. "Scusi, I'm uh...waiting for friends...AMIGOS" (what little spanish I had retained from high school came out). I got up, thinking I had better move away and started walking around a bit. A few minutes later a woman came down the steps with a hot cup of coffee and offered it to me. "Mettilo qui quando finisci" she said, showing me where to put it after I finished. Needless to say I was stunned, this had never happened to me back in New Jersey! Yes, Italy was definately the place for me, I knew then that this would become my home.

Vicenza in 1980 was a small town, with family run shops every few meters. There were milk shops, bike repair shops, fruit and vegetable shops, delicatessens, basically everything you could imagine within easy walking distance no matter where you were. What amazed me most and still holds true today was that everybody knew everybody, even the new kid on the block. There were times when pockets ran empty yet it seemed everyone was ready to feed me and come to my rescue should I really be in dire straights. The woman who ran the bar just around the corner from the work yard where I slept went thru the morning paper everyday with me looking for potential job opportunities and never charged me for the cappuccino. My Italian wasn't very good, but we managed to communicate somehow, often with simple hand gestures.
In late September I had the good fortune to meet with a family who would become my 'Mama' and 'Papa' here in Vicenza. Francesco introduced me to a high school friend of his named Antonio, who quickly deduced I was in need of a good meal. "You come to my home, we eat" he said, "doctor's orders". Antonio's father was a doctor, and he (Antonio) was an only child. If truth be told, I had eaten many a good meal since my arrival in Italy, but never had I eaten as well as I did that day at Antonio's house. Mama and Papa took me in without question, and everyone watched in delight as I ate everything put in front of me. "Mangia mangia che ti fa bene!" Mama said as Antonio translated for me "eat eat, it is good for you". After lunch Antonio pulled out his guitar and we shared a few songs together. This was a family in need of another son, and I was in need of a family.
I felt a bit uncomfortable calling them by their first names, so I asked "Do you mind if I call you Mama and Papa?". From that day on they were my family here, Mama telling me to come and eat every day if I wanted to. She even provided me with a towel and told me to come over and take a shower anytime I wanted to. Although there was runnng water in the work yard where I was staying, it was a bit complicated to wash. The place was muddy after it rained and the dogs were always eager to put their paws on me whenever I returned. I was just as happy to let them do so as they too had become 'family'. Papa took me aside one day and put some money in my pocket, "you go out and have a pizza tonight". This family gave because it made them happy to give. Years later when I bought the first apartment it was Papa who offered to loan me the remaining money (no small sum) I needed to close the deal. "Papa" I said, "I have no words to thank you". "It's ok" he said as Mama stood next to him and smiled, "we want you to have a 'home'." What followed was a total surprise to me. I couldn't thank them enough for their complete trust in me, and told them that they would be the first people I paid back once I managed to save the money. "No" he said, "this is our gift to you".

Vicenza has changed in many ways thru the years, but the heart and soul of the people have remained the same. There are now big shopping malls around town rather than small little shops every few meters. Everyone has a car now where once there were many more bicycles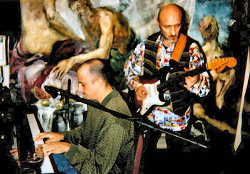 on the road. The economy grew in the 80s and 90s and Vicenza has changed from a relatively unknown quiet town into an important center for gold (there is an international gold fair held here 3 times a year). And while the town has increased in population, it's still retains that "small town" feel to it. You can easily walk around town and often run into people you meet. Yet in spite of its growth there is and will most likely always be a small town feel to it. People seem to appreciate the simple pleasures like having a cup of coffee together when you run into an old friend. The concept of 'time' is still very Latin, and people are never too busy to stop for a moment and chat. After growing up in a society where you have to program every appointment I particularly enjoy the spontaneous moments and chance encounters that small town Italy offers.